Our Foundation
Our peaceful cloistered Community rests in the busy streets of San Francisco, CA. Our Carmelite vocation is cherished as we carry on the legacy of our Foundresses, who left their homes and came to San Francisco to preserve in freedom our contemplative way of life.
During the Cristero War (1926-1929) the anticlerical Mexican movement mercilessly persecuted Catholics, suppressing religious celebrations, and killing any who refused to abandon the Catholic Church. After being forced out their cloistered monasteries, Carmelite Nuns persevered and gathered in secrecy to preserve their contemplative life of prayer, penance, and sacrifice. Meanwhile, firing squads and executions drove many Religious out of the country to escape the terrifying rule of the government.
Carmelite Nuns from the Carmel of San Jose and Santa Teresa left Guadalajara, Mexico and headed to the United States in search of a life of religious freedom. With help from newfound friends in California, our Nuns began the Carmel of Cristo Rey in San Francisco, and with it resumed their life of consecration and prayer for out world of today.
.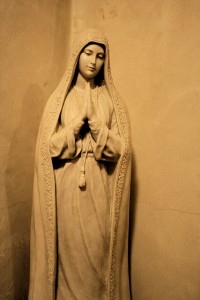 The Nuns of Cristo Rey remain a bilingual community, speaking both English and Spanish in deference to the heritages of our Holy Parents of Sts. Teresa of Jesus (Avila) and John of the Cross and our foundation (1927) and in gratitude for our new American homeland. Women of various cultures and different backgrounds have fulfilled their vocation within our Community, but we all celebrate and commemorate the Mexican and Spanish history of our foundation to which we owe our freedom and may live a life of zeal for the Lord.